Activity Report
Ecozone Leuven
---
The urban distribution of the future is efficient and green
bpost works towards a more sustainable world using electric bicycle trailers and a smart network of parcel lockers. It delivers mail and parcels emission-free in various so-called Ecozones, where there is also a pick-up point within every 400 meter radius. How do the various stakeholders experience the project in Leuven, almost a year after it started?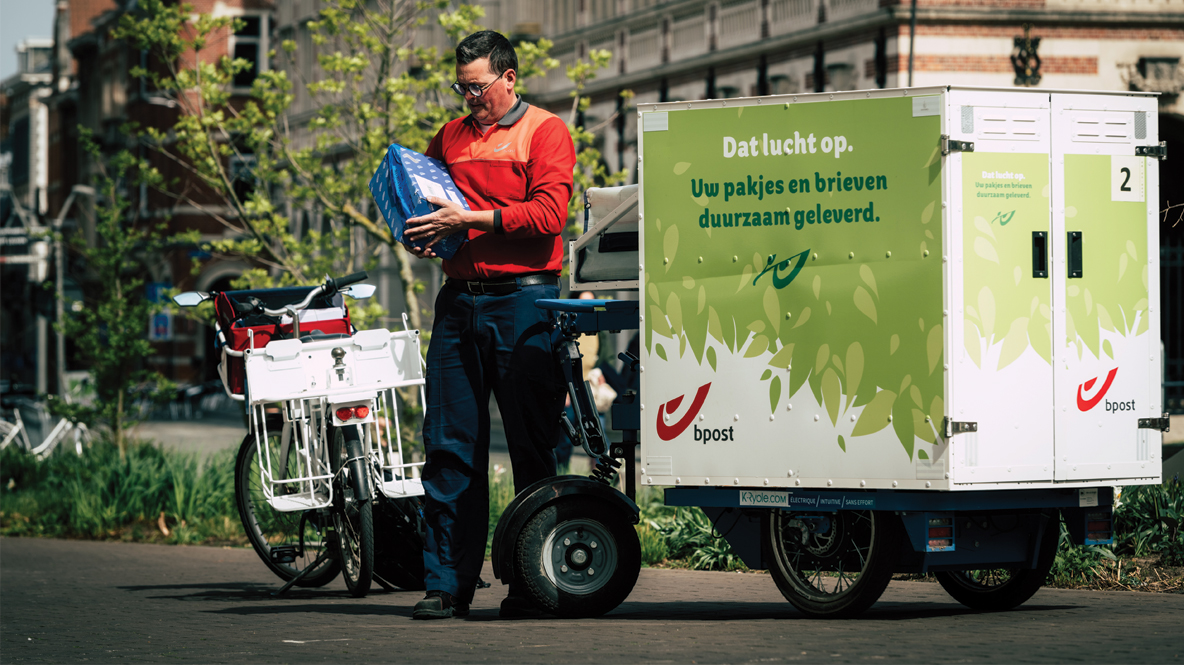 The switch to sustainable city logistics
An important initiative to make the city climate neutral.
David Dessers, Alderman for Mobility in Leuven
Leuven is a city with climate ambitions. That is why David Dessers, Alderman for Mobility, welcomed the Ecozone with open arms. "Leuven is a very compact, but fast-growing city with increased transport. Only a well-considered and future-oriented policy can keep the city liveable. The Ecozone is a good example of sustainable city logistics and therefore fits very well with our ambitions."
David receives many positive signals. "The electric cars and bicycles stand out in the streets. Our citizens can see with their own eyes the efforts that are being made to keep the city healthy and sustainable. The parcel lockers are widely available and easily accessible. They are part of the mobi points, places in the city where we offer various forms of shared mobility and which become even more interesting thanks to the parcel lockers. So we limit inner-city traffic and make sure that it is environmentally friendly."
Still, the alderman remains vigilant. "Parcel lockers are taking up additional space in the public domain. So we have to watch out no to overcrowd the city. But overall we are very satisfied with the Ecozone. It is an essential part of the much-needed initiatives to really make the switch to sustainable city logistics and thus make the city climate neutral."
Send and collect packages quickly and easily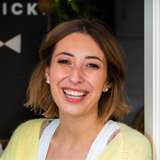 I take my parcels on foot to a parcel locker, I do not need a car anymore.
Liselotte Strick, shop owner
Liselotte Strick has her own beauty shop in the centre of Leuven. She regularly sends and receives parcels for her online shop. The Ecozone has made her life a lot easier. "Before I easily lost 45 minutes to get my parcels to the post office, but now I just walk to a parcel locker at the end of the street. The job is done in ten minutes. I no longer need a car, I do not have to take opening hours into account and at the same time I walk the dog", she laughs. "My Leuven customers too choose more often to have their parcel delivered in a locker, so they can pick it up whenever it suits them."
Not only the ease of use, but also the sustainability aspect appeals to Liselotte. "My business stands for natural cosmetics and beauty products. So I am sustainably conscious and my customers too. The postmen's electric bicycle trailers are also very striking in their appearance. They are more compact and above all quiet. In other words, I think it is a very successful initiative."
To drive smoothly through the centre with a bicycle trailer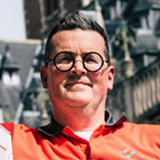 It is funny that you are a real attraction for many people on the street.
Nico Hoobergs, postman
For Leuven postmen such as Nico Hoobergs, the new way of working has a major impact. "Back in the days, I had to get all the big parcels ready in time for a driver to distribute them. Now I take them with me in my electric bicycle trailer."
Nico has been a postman for 31 years and has seen the profession change thoroughly over the years. Not only his job changed, so did the city. "Leuven is a university city with a small centre. The traffic circulation plan has many ecological advantages, of course, but it is less easy to drive through it by car. If you had to deliver the mail by car, you would be completely stuck at 10 o'clock. Fortunately, our bicycle trailer has changed that. You can get through everywhere and everything is easily accessible."
In the beginning, the switch from bicycle to bicycle trailer took some getting used to, although the advantages were very clear. Nico still learns things every day about the ideal way to fill the trailer, which is not an easy thing to do since the volume is different every day. "It is funny that you are a real attraction for many people on the street. Because I appeared in the Leuven city magazine, the citizens of Leuven also recognize me. It often happens that people stop to see what such a bicycle trailer looks like from the inside."
Better air quality and increased quality of life
The MOBI research unit of the VUB has established a total sustainability gain of 32% in the Ecozone of Malines compared to the previous situation, taking into account emissions, air pollution, noise pollution, kilometres driven and traffic nuisance. In concrete terms: 97% less CO2 and 77% less particulate matter. The use of more bicycles means that every day postal delivery vans travel 164 km less in the city centre. On top of that, the green fleet is quieter: 49% less decibels are spread. Malines' citizens' behaviour was also measured: the reduced number of customer movements saved 0.6 tons of CO2, a decrease of 86%.