Investing in people
Traineeship
---
Know exactly where you want to take your career? Or still working things out? Young people can find out who they are here. By taking the opportunities we offer in the Traineeship or Young Professional program.
Traineeship
The bpost Traineeship program is a two-year pathway for school leavers who are ready for their first on-the-job experience. There are more than 500 different jobs at bpost, so we can offer lots of opportunities. Young people sink their teeth into three challenging projects at three different business units or entities and are given guidance and encouragement to grow and develop.
Testimonial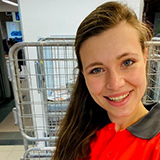 You can find out what you're good at and what you most want to do.
Sharon Van Impe
Sharon applied for a job at bpost straight after her finals. "I wanted to work at a company that has a social impact. The trucks on the road, a post office at every corner, the red mailboxes and the mail carriers at every door. bpost is everywhere." Sharon started a traineeship in project and process support at a bpost sorting centre. "My project was immediately very diverse and challenging.  Thanks to this role I got to know the company really quickly. I have always loved human resources a lot, so I was given the opportunity to take on the role of HR Field Advisor. I'm incredibly grateful to bpost for giving me the opportunity to make this switch. It's also what I expect from a traineeship: you can find out what you're good at and what you most want to do."
Young Professional
We are delighted to welcome recent graduates who are not eligible for the Traineeship Group on our Young Professional program. They start on a permanent contract with opportunities to grow as part of a development route.