Activity Report
E-logistics in North America
---
How bpostgroup aims to double its North American turnover in five years
North American e-logistics growth is one of bpostgroup's strategic pillars. The company aims to double its turnover by 2026. Subsidiary Radial has drawn up a growth plan with clear objectives and focus points. "We consciously opt for geographically dispersed fulfilment centers."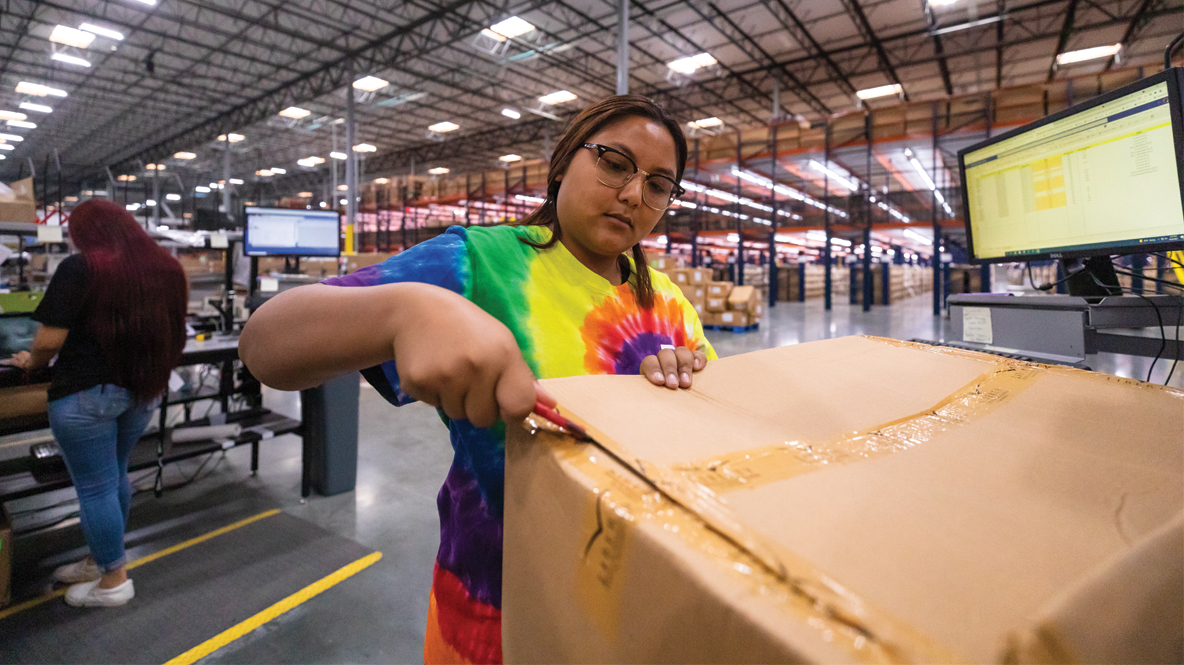 With what kind of ambitions is Radial US preparing itself for tomorrow?
Henri de Romrée, CEO e-Logistics North America at bpostgroup: "The e-logistics market is growing strongly. As a leading player, we aspire to grow accordingly. Year after year we are improving our financial performances and we now aim to double our turnover over the next five years. We will achieve our goal by striving for excellent customer experience across the board. With Radial US, we provide custom order fulfilment and shipping solutions for industry-leading e-commerce brands. The experience they provide to their customers stands or falls with that latter process. We are a crucial driver to provide our clients' customers with an excellent customer experience. In other words we are the company behind the brands' customer love."
Gary Crowe, Executive Vice President and Chief Financial Officer at e-Logistics North America at bpostgroup: "A great customer experience also leads to greater financial success. Those two elements are closely related. Of course, many other things are indispensable in a well-thought-out growth plan, for example the right focus on market developments and technology investments."
Radial US moves with its clients, whether they are established brands or digital native companies.
Gary Crowe, CFO e-Logistics North America at bpostgroup
Radial recently expanded its North American operations with new fulfilment centers. Which strategy do you use?
Laura Ritchey, Executive Vice President & Chief Operating Officer at Radial US: "We are expanding with our client's growth. Opening more fulfilment centers fits that vision and supports organic growth. Before opening additional sites, we thoroughly analyse how they cover the client's customers as well as how they fit in our existing network. In the US, for example, the East and West coast are geographically far apart. We know that many clients are looking for an ideal, strategic geographic spread between those two coasts in order to serve their customers and minimize transit times. Each time we open a new fulfilment center, we ensure that it can grow and expand in the future as our clients grow. And, of course, we keep a close eye on costs and check whether there is sufficient access to the right workforce in that region."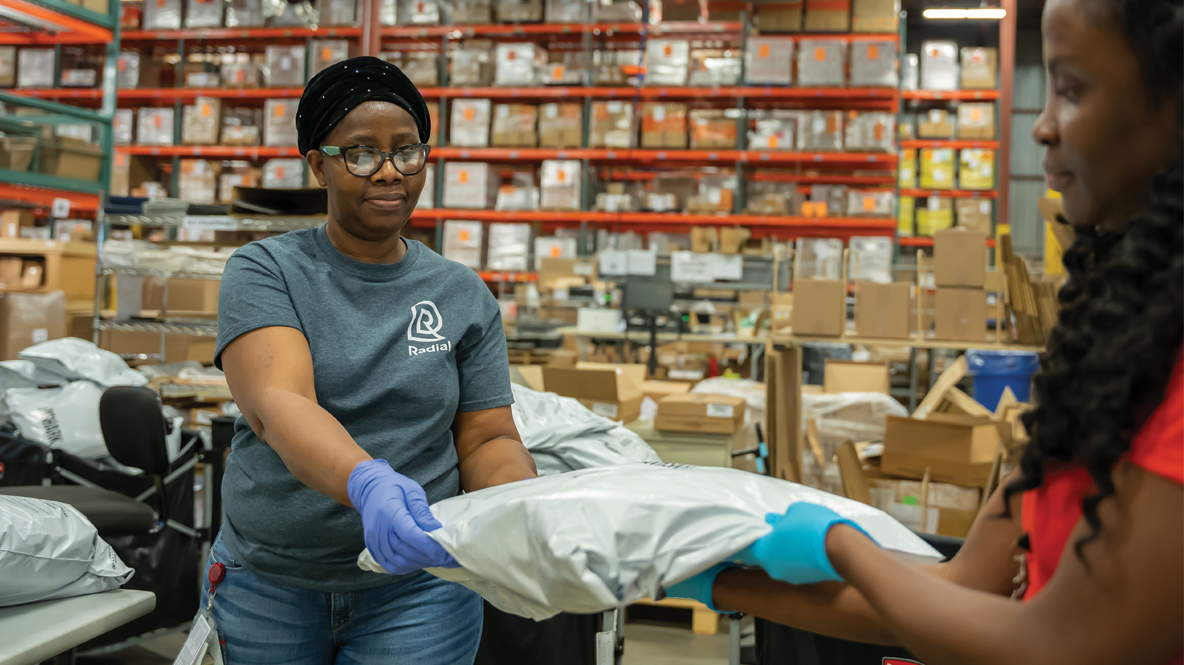 Do you want to open even more fulfilment centers or expand the current ones in the near future?
Ritchey: "That is indeed our plan. New centers are planned in Phoenix, among others. We will continue to open additional centers to support our clients' growth – and therefore our growth too – requires it. We have identified attractive markets and regions."
Crowe: "Over the next four to five years, we expect to open more than twelve additional locations in North America. Not only do we look at  building new centers, but we also keep an eye out for possible takeover off existing sites and to operate out of client's owned sites. We have the expertise and the wherewithal  to keep those options open, use them and make them work."
What role do new technology and smart solutions play in Radial US 's operational functioning and growth?
de Romrée: "They are indispensable. Especially in the technology-driven e-commerce market. Automation, including robots and digital transportation management systems, and workplace technology solutions such as wireless scanners are critical to optimizing productivity, increasing job satisfaction for our people, remaining competitive, and ensuring the fast and excellent service our clients expect. For example, since the end of last year we have been using the Exotec Skypod system as a central order picking machine for our client Gymshark. That system seamlessly switches between batch picking and individual order picking. It supports an output of 240,000 units per day."
We are a crucial driver to provide our clients' customers with an outstanding customer experience.
Henri de Romrée, CEO e-Logistics North America at bpostgroup
Ritchey: "All our activities generate data streams. That is why data platforms are indispensable for detailed reports and data analysis. This allows us, for example, to exchange real-time data between our centers and the clients. And it permits us to learn or determine together how we can work even faster and more efficiently in collaboration with partners. Artificial intelligence and BI solutions are useful for gaining new insights and predicting future opportunities."
What is Radial's client approach: how do you convince new clients?
de Romrée: "A few years ago, leading brands and companies in the US only derived a low percentage of their turnover from online sales. Many now derive 25 to 100 percent. They are looking for the right partner who can assist them in that growth in a fast, flexible and scalable way. As a pioneer in that industry, we can present an impressive client portfolio. We are not a starter: as an experienced party, we help define our industry's path. The fact that we have built up extensive expertise in many market domains and can offer personalized solutions tailored to our clients and within their budget are strong evidence of our qualitative total approach."
Crowe: "One of competitive advantages is that we have the capability in terms of geographic footprint, technology, resources and know how to support our clients as they grow their ecommerce business.  Even if clients double or triple in size in a few years, Radial can support their grow. That is also an immense asset. We move with our clients: whether they are established brands or digital native companies."
What is the role of employees in your growth story? How do you invest in talent?
Ritchey: "There is no fulfilment without people. It is that simple. That is why we invest a lot in our employees. We do this with extensive onboarding, so our new colleagues know exactly what Radial stands for and how we work. Later on, we continue to train our employees, for example in how to deal with new tools and technology. We also want to provide a workplace that emphasizes bpostgroup and Radial US values, including respecting each other and contributing to the success of our clients. In this way we also strengthen our employer brand, which is positive, because employees are a company's best ambassadors."
There is no fulfilment without people. It is that simple. That is why we invest a lot in our employees.
Laura Ritchey, COO Radial US
How important are diversity, equality and inclusion?
Ritchey: "We have the ambition to be and to remain a top employer. Our efforts in Diversity, Equty and Inclusion (DEI) are fully in line with that vision. Last year we set up an advisory group with a representative mix of our employees. The group makes recommendations and raises awareness. We use internal communications to spotlight our progressand provide training at all employee levels. We have hired a DEI director to oversee all of our efforts."
de Romrée: "Our 5,500 full-time employees at Radial US and 24,000 temporary employees have 27 different nationalities. Many languages ​​are spoken in the workplace. We offer people full access to the labour market, regardless of their life and educational background."