Our Initiatives
100% respect, All unique, All bpostgroup
---
As engaged and committed employees are the drivers of company success, we strive for a respectful culture with engaged and committed people, and the 100% Respect campaign was launched in 2022 with this in mind. Inclusiveness translated into "All unique, all bpost", a slogan that became reality through workshops, focus groups, and communication and awareness campaigns that were rolled out across all bpostgroup entities in Europe, Asia, and North America. At Landmark Global US, employees printed world maps to display at all warehouse locations, and were invited to add a pin to their country or area of origin. This has been a tangible way to show how diverse we are within our work force and also to spark conversations about diversity.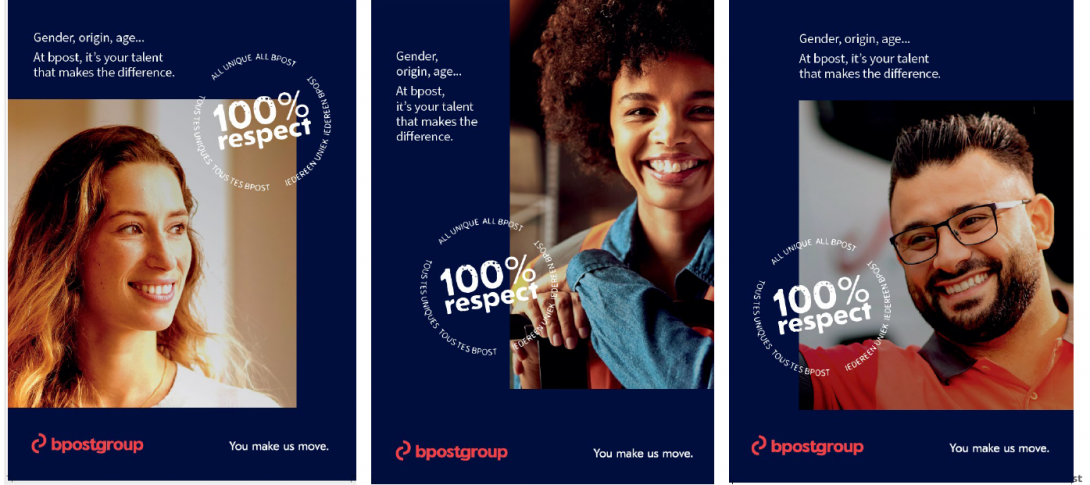 Women at Sorting – 100% respect approach
Assisted by a multidisciplinary team and the psychosocial service, management at our sorting facilities have implemented a targeted phased action plan to support inclusion and respect for women on site at the sorting centers. An action plan was rolled out in 2022 with the launch of 'All unique, all bpost' refocusing on sexism, awareness, and training by the diversity and inclusion manager and psychosocial prevention advisor.
XandY initiative
XandY is a bpost community of managers aiming to boost diversity, equity and inclusion, and to empower women in managerial positions. The network brings together a community of female, male and non-binary colleagues in the company. The aim is to connect, inspire and develop women managers with the support of men and members of the Board and Exco.